Are you ready for higher quality?
Try Double A for yourself – it's free!
Double A has been trusted and tested by commercial printers, lawyers, financiers and agencies for over 15 years. It's the paper of choice for high-quality board presentations, stunning client proposals and for demanding professionals like you.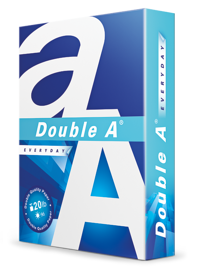 Double A Paper Trees are also sustainably sourced. They are grown by 1.5 million rice farmers, who plant the trees in the ridges (or KHAN-NA) between their rice paddies. These paper trees have a unique, high-fiber content which gives Double A paper good formation and a smoothness you can feel.
Why try Double A? Because our paper is…
Premium quality
Smooth, bright and white
Friendly to copiers and printer jam-free
Perfect for double-sided jobs
Great for sharp, vibrant prints
Don't miss your chance to impress at your next board meeting!
Fill out the form to receive your own free sample.
Share
Complete the form to get your free sample.