No matter what business you're in, the personal touch that paper provides a customer is unrivaled by its digital counterpart. Nothing says "Thank you sincerely" like a handwritten, paper thank you card. Nothing says "It's nice to meet you" like a thoughtfully-designed business card. When it comes to adding that ever-vanishing human connection to a business transaction, paper's tactile meaningfulness makes a difference.
Here are three unique ways to use paper to grow your business. Even if you're already using direct mail, these small tweaks can up the return on your investment.
Unusual Follow-up Card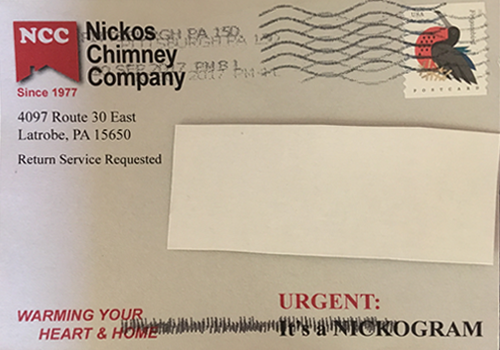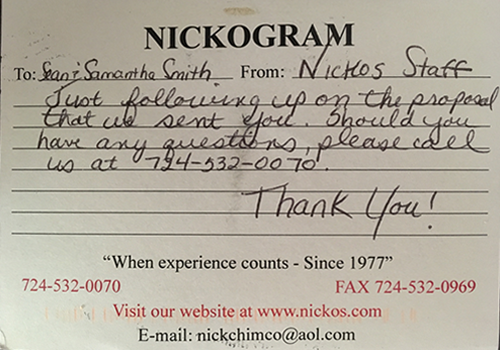 Yes, you've emailed that prospect that fell off the face of the earth a few months ago. You've even left him several gentle reminder messages. But have you thought of going the extra half-mile and sending him something tangible? I recently received a small postcard in the mail from a chimney company I had contacted for a quote. I had received several follow up calls and emails from their competitors. But these were all easy to put off returning. When I got this Nickogram in the mail, I smiled.
It was a simple postcard, but the approach was fresh. The card didn't nag or pressure, but reached out in an authentic and well-meaning way. The handwritten note, once considered unsophisticated, stood out as novel in my pile of printed mail. I called them the next day.
Consider your own creative take on this personalized prompter.
Culture Book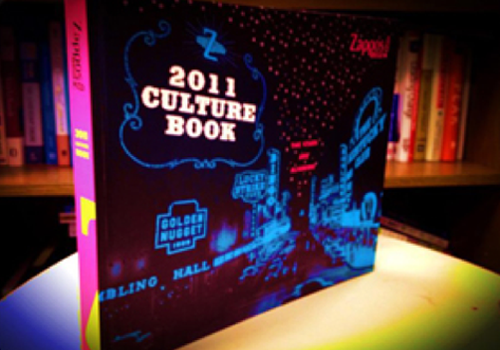 The power of a book about your company's culture or vision is in the upfront investment. It's an expensive piece, and it will look and feel that way to your clients. Unlike the postcard, this will take time and money to prepare, but the dividends can be even greater. Zappos, the online shoe behemoth, started this trend several years ago. They compiled a beautiful, coffee table book of insights from their employees, partners and customers. It was unedited, except for typos.
These books can capture the heart and soul of your company. With their arresting visuals and carefully crafted wording, they are a long-format ad that puts your company's vision in the hands of your most treasured prospects. They can be true works of art, and people tend to keep them around for inspiration. In fact, the ROI on the book has been worth the effort.
Thank You Card
This is a tried and true format, but we so easily forget about it in the hustle of a digital day. Just a simple card with your logo or a memorable photo from your business will open the door to so much more. Even if your list is too long to ensure a handwritten note, a real signature can be a meaningful act. It goes without saying that every "big" deal should be accompanied by this easy and gracious gesture. But even the small deals can be made into bigger ones when you care enough to send your very best.
Are there any other interesting ideas you've used with success? The beauty of paper is that there are always new designs and uses just waiting to be discovered. Find a new one today!