Renowned American painter Ellsworth Kelly once said, "When I see a white piece of paper, I feel I've got to draw. And drawing, for me, is the beginning of everything." For centuries, paper has been at the forefront of all kinds of art forms, from paintings and calligraphy, all the way to poetry and print. 
Today, some bold and unique artists are taking this medium one step further, transforming the paper itself into fascinating art pieces never before seen. Rather than placing the art on a page, these artists are taking the pages themselves and expressing their emotions in an entirely different art format. 
As paper enthusiasts ourselves, we at Double A felt it was about time we shed a light on these incredible artists and the amazing pieces they make each and every day. Although you may currently use paper only to print designs or create business products, perhaps these artists will help you see paper in an entirely different light and expand your brand identity through it.
What is Paper Art?
In order to truly appreciate these various paper art forms, let's take a look at some of the original paper artists and where this art form first began. The first paper crafts began in Japan and China through origami in 1797. Around this time period, the Moors, Spaniards, and Germans were also playing around with this method of paper folding to create intricate art pieces as well. 
Since then, origami has become a popular international trend for both children and adults. The pieces created helped form the paper art movement we see today, and also helped countless individuals to see paper in a different way and try to use it as less of a canvas and more of a medium itself. 
Today, artists have chosen to take these methods even further, and have set out to create full art pieces through manipulating paper to their benefit. The results of this have been nothing short of amazing, ranging from busts made entirely of paper and lifelike statues, all the way to miniature homes and life-like flowers. To truly understand how widespread and outstanding this wave of art is, let's take a look at five of the best artists in the industry and what makes their art pieces so phenomenal. 
Beautiful Examples of Paper Art – and the Artists That Make Them
Perhaps the most stunning part about paper art is that no two paper artists are the same. Every artist has their own approach to the medium, their own message, and their own style that makes them stand out from the rest. This is why seeing a wide array is crucial to get a bigger picture of just how massive and miraculous paper art truly is. Below are five of the artists making a name for themselves in the paper art world and some examples of the incredible art they create.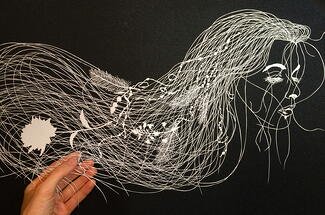 http://bravebirdpaperart.com/imagined-portraits
Maude White is a Buffalo-based artist that yields an x-acto knife rather than a paintbrush or pencil. Her works are highly intricate and time-consuming, and include birds, women, flowers, and full scenes. Her love for paper began at a young age, and she feels as though her art allows her to express the true power of paper to the world.  
In her artist statement, White had this to say about her art form and her unique medium, "When I cut paper, I feel as if I am peeling back the outer, superficial layer of our vision to reveal the secret space beneath. With paper cutting there are so many opportunities to create negative space that tells its own story. Letting the observer become present in the piece allows him or her to look through it. The stark contrast between the black and white paper, and the cut nature of the work makes my art more three-dimensional than paint on canvas…Paper is everywhere and it has been telling stories for centuries. By respecting and honoring paper for what it is, and not considering it a stepping-stone to something greater, I feel like I am communicating some of the pleasure it brings to me. I am not creating for Art's sake. I am creating for Paper's sake, to make visible the stories that every piece of paper attempts to communicate to us."
You've surely heard the story before about creating 1,000 paper cranes to have a wish fulfilled. This fable was popularized in both China and Japan for centuries, and the power behind the story has led many to create small cranes each and every day in honor of this story.
For Cristian Marianciuc, the story hit even closer to home as one of the most prolific attempts at the 1,000 cranes was performed by Sadako Sasaki who sadly died at only 600 cranes from cancer. Having a sister that had passed from cancer as well, Mariaciuc set out to tackle the cranes on his own and made 1,000 paper cranes—one each day—over the course of three years. 
His intricate and beautiful cranes showcased his emotions each and every day and have helped countless individuals to get through bouts of depression and anger with life since then.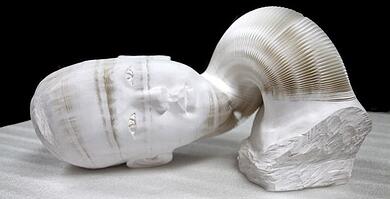 (Photo: Li Hongbo/Dominik Mersch Gallery) https://www.mnn.com/lifestyle/arts-culture/blogs/10-paper-artists-who-reimagining-medium 
If you've ever even glanced past a social media thread in the last two years, you are sure to have seen Li Hongbo's absolutely mesmerizing paper busts that bend, stretch, and then hold shape when put back together. This incredible artist has perfected an age-old Chinese paper-cutting method and taken it to an entirely new level through his whimsical and astonishing pieces.
According to the Eli Klein gallery where his art is currently being showcased, "Li Hongbo is best known for his interpretations of paper. His reinvention of the material's form challenges viewers' expectations of the medium as an artistic vehicle. Utilizing an age-old honeycomb technique seen in paper gourd making in China, Li creates kinetic paper works which elegantly expand, contract, and retract. These sculptures hint at influences of folk traditions in China, but in contemporary light, play upon perceptions and the visual language of a mercurial medium that has stood the test of time."
Swiss paper artist Guy Laramée is known for his particularly mind-blowing landscapes, created entirely out of books. He does this by carefully shaving down the books and then repainting them to look like mountains, rivers, lakes, and houses. His main goal is to create art that truly stands out and speaks on the subject of knowledge and its fleeting nature.
When asked about this, the artist had this to say on knowledge, book destruction, and the formation of art through paper, "So I carve landscapes out of books and I paint romantic landscapes. Mountains of disused knowledge return to what they really are: mountains. They erode a bit more and they become hills. Then they flatten and become fields where apparently nothing is happening. Piles of obsolete encyclopedias return to that which does not need to say anything, that which simply IS. Fogs and clouds erase everything we know, everything we think we are."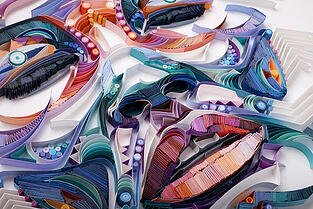 https://artboost.com/blog/meet-yulia-brodskaya
British artist Yulia Brodskaya is certainly not afraid to take bold papers and colors and make bold statements with them. From faces and flowers, all the way to patterns and text, Brodskaya is dedicated to her craft and the beauty that comes along with it. 
When asked about her passion for paper and visually stunning pieces, Brodskaya referenced her history in graphic design and how it influenced the pieces she makes today. In her interview with Art Boost she discussed this inspiration and how it has helped her to be who she is today, "My background is in graphic design, but I always had a tendency to use hand drawn illustrations quite a lot and have been interested in various forms of paper craft since school years (as a hobby). It took me quite a while to find my own way of bringing together my love of paper with my experience in graphic design, especially my interest in typography. I started to use edge-glued paper technique more than 7 years ago.The first such paper artwork that I made was my name 'Yulia' – I was looking for an eye-catching way to illustrate my name for promotional purposes. Somehow I remembered this method of edge-gluing strips of paper and started gluing the letters of my name(at that point I had no idea it was called Quilling). That was the starting point for my further experiments with paper and typography; quoting other people, I made quilling cool, modern and gave this old paper craft technique a new life and significance."
Although these are only five of the countless stunning paper artists currently out there, they not only mesmerize us, but also give us inspiration for so much more as business owners and designers alike. They teach us to think outside of the box, incorporate quality paper into our businesses, and engage our audiences in different ways. 
Although we've discussed how to use paper for insane reasons and stand out from the crowd in the past, perhaps, these artists can help companies remember exactly what their audiences want and how to continue giving it to them for years to come.