Get crafty this holiday season! Some pretty paper and a few simple steps can transform your space. Whether you want to create your own tree, decorate your tree, mantel, or railing, or bring your other decorations to life, these beautiful DIY paper holiday decorations will transform your home into a winter wonderland that everyone can enjoy.
Courtesy of House Beautiful and Handimania, we've gone beyond your typical snowflake cutouts to show you some seriously inspiring and spirited decorations. And since they're made of paper, they can be sustainable, colorful, and just plain beautiful.
Related: Paper Art
Kids can get in on the action too. Grab some paper and let's get started!
3D Tree

This 3D tree is brought to you by Handimania. It can be made in any size with your desired number of branches. You can also experiment with different types of paper, or decorate it with markers, glitter, beads, string "garlands," and whatever else you can dream up! A cluster of these paper holiday decorations makes a festive centerpiece – or you can plant one at every setting. The options are endless.
Adorable Paper House
Create a sweet keepsake with just one sheet of paper. You can make one for each child to treasure. These houses can also live outside the tree on mantels and tabl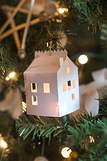 es – or you can create a whole village. Use them to hide little notes or treats for an Advent Calendar. They're pretty and compact, and will dress up your decor.
Give Your Garland a Boost
Need a little more pizazz for your patio, hallway, or mantel? Create a colorful design to offset your greens. Make s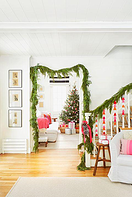 tars, arrows, hearts, trees, angels, sleds, candy canes, Santas, and more. A little can go a long way. This is the perfect craft for kids who like to cut! It just requires scissors, glue, and a little ingenuity!
Frilly Flakes
These gorgeous snowflakes put regular cutouts to shame, but do not worry. You can make them as fancy or as fun as you'd like. Create the feeling of a true winter wonderland in your home with paper!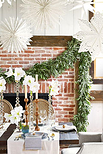 Enjoy this special time with your loved ones and make some decor that comes from the heart and not the store. These paper holiday decoration ideas are just the start. You can make almost anything with paper. Need some good paper? We know the place! Double A Paper is high quality with dense pulp that stands up to the holiday havoc and lasts for years to come. Let's get crafting!